Bespoke modular exhibition Stands
The perfect way to save money exhibiting at multiple events
How do bespoke modular exhibition stands work?
Just like a bespoke exhibition stand a bespoke modular exhibition stand is created just for you and your company.
The main difference is that it is designed differently from the start: It is important to tell your designer or state in the brief that you need to use your exhibition stand multiple times. You might need to use your exhibition stand multiple times in a year, or you might just need a re-install for perhaps 3 years – all of this is great information for your exhibition stand designer. Once our expert designers know this, they look at all the different stand sizes and events to create your bespoke designs.
The bespoke modular exhibition stand design will be made up of different elements or modules that can be taken to each event even if the stand sizes are different. This gives you a kit of parts to choose from for each exhibition stand. The walls and some of the structure will stay the same, but it means you can re-use the elements multiple times.
Re-using these exhibition stand items gives a continued running theme across your events, making it easy for customers to recognise. There are also environmental benefits to a bespoke modular exhibition stand because you are re-using elements and not making new items each time. The components will need to be refurbished for each event, but this is more cost-effective than a new build.
You can see examples of different exhibition stands we have created on our portfolio page
Are they more expensive than a traditional bespoke exhibition stand?
Cost savings can be significant when using a bespoke modular exhibition stand. There can be a slightly higher initial cost to make all the elements, as they will be built for multiple installations but this is usually attached to the biggest exhibition stand you will have.
The remaining stands see a cost-saving as there are little to no production costs meaning a saving overall. A point to note is that every year, especially at UK venues build up and de-rig (breakdown) times are getting shorter and shorter. This means a small amount of refurbishment should always be planned for with all bespoke exhibition stands that are to be re-installed. We do this as a matter of course, and we discuss this with our customers to decide if they wish to have custom crates produced to house the exhibition stand items. 
What are the benefits of  bespoke modular exhibition stands?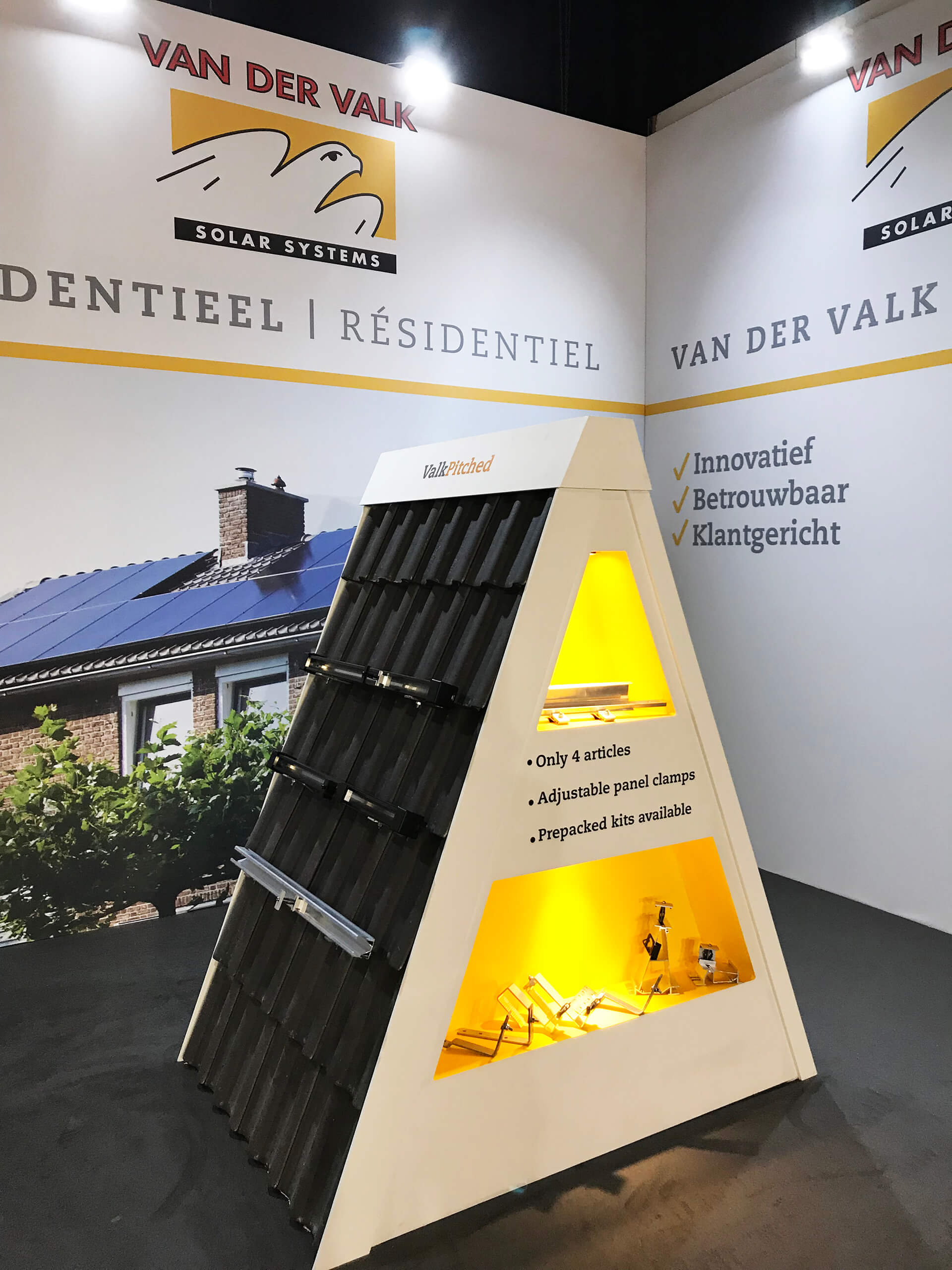 As well as the cost savings and environmental benefits there are other reasons to choose a bespoke modular exhibiton stand.
You can fully plan your events programme well in advance, making it much easier and more cost-effective. This forward planning helps your product or technical departments prepare for the events and any special releases ahead of time.
As part of the exhibition design process and working to your budget we will try to make sure the stand is as cheap to transport as possible. This means that we can build your exhibition stands in other countries on-budget.
One of our customers was having to use different exhibition stand builders right across Europe. This meant that the events programme was incredibly stressful, with multiple flights to different workshops, language barriers and different working methods.
We solved this problem by designing a bespoke modular stand that is transported to all events where they need a space-only stand. The customer has a single point of contact in the UK who manages all the stands in the events programme. This has made the process almost stress-free, allowing them to focus on other marketing tasks.
All the stands are still fully project-managed by our expert team wherever they are delivered. 
Is there Anything else I need to know?
Something to bear in mind with every exhibition stand is linked to the re-installation at future events.
Certain items cannot be re-used from stand to stand, such as carpets and full seamless graphic wraps. We have been asked before if we can re-use carpet or floor vinyl, but we don't ever do this. Unfortunately the flooring is usually in pretty bad shape by the end of the event, and the last thing you would want on the next stand is grubby flooring. It would make all the hard work of refurbishing units and taking care of them pointless if the flooring looks like it has already been used on the opening day of the show.
There are lots of options for your graphics on the stand, but if we are producing full-height printed wall wraps, these are a single-use item. The canvas we print on gets wrapped or upholstered onto the walls with staples for a tight fit. At the end of the event, these have to be cut away from the wall panels to dismantle the stand. We can happily advise on the approximate percentage to allow for re-installs, so feel free to contact us
See how a bespoke modular exhibition stand saved money and made exhibiting easy!
You can see above, how the bespoke modular exhibition stand design has created a bespoke exhibition stand suited perfectly to the space available at the ISEC event.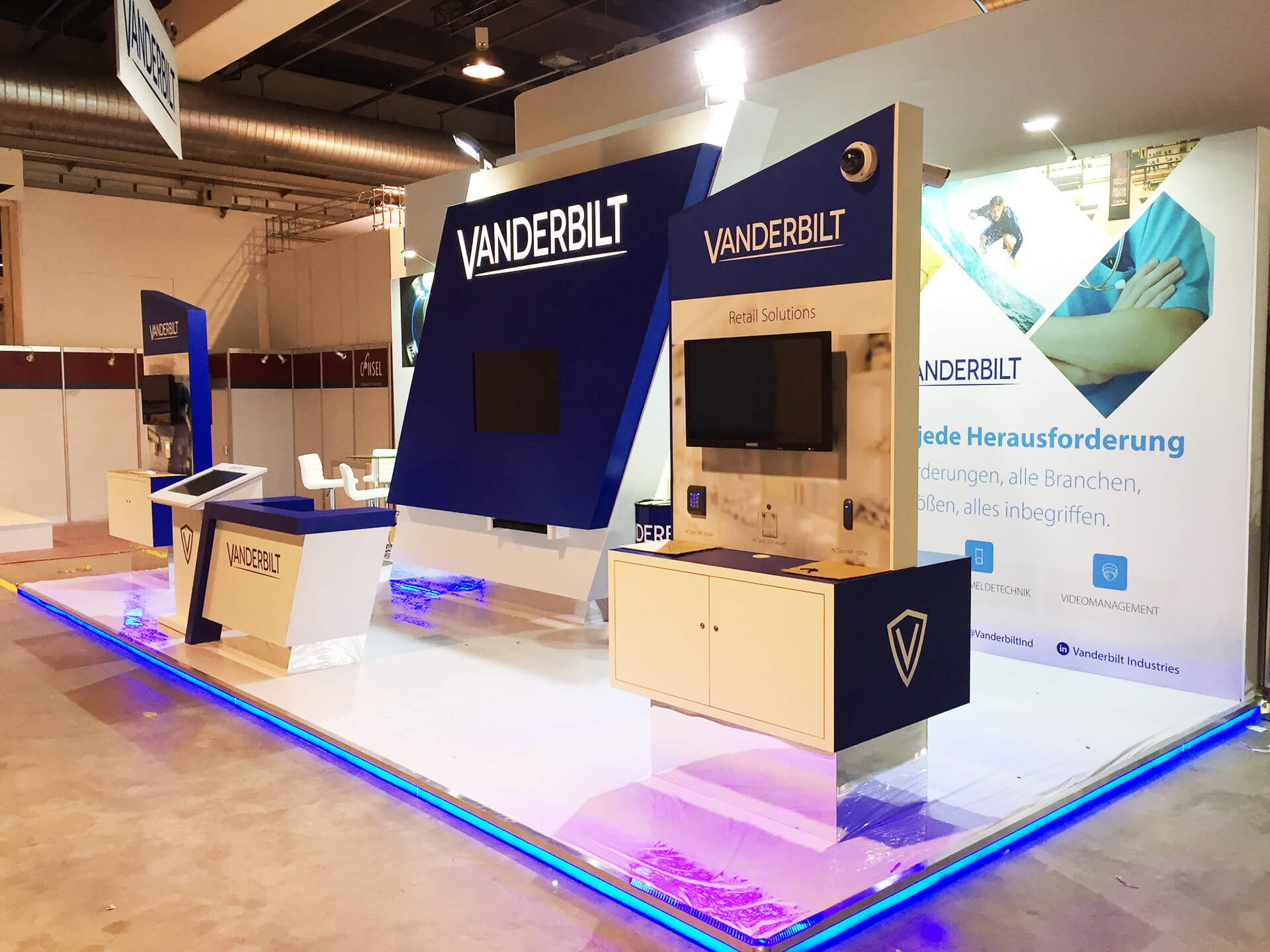 You can see above, how the bespoke modular exhibition stand elements have been reconfigured to suit a different stand space at the Sicherheit event. This venue imposed a number of restrictions on the design, and so the flexibility of this solution helped save lots of time and money for the customer.
The remaining exhibition stands that we delivered across the events programe utilised these bespoke modular exhibition stand components a wide variety of different sized exhibition stands.
The customer was so pleased with this approach that they actually asked us to build a replica of their European exhibition stands in Dubai for the Intersec event. Our local workshop in the UAE delivered a fantastic bespoke exhibition stand that looked exactly like we had shipped the bespoke modular exhibition stand components to Dubai!